Aluminium has long been seen as the premium material for joinery, namely, the Garage Door.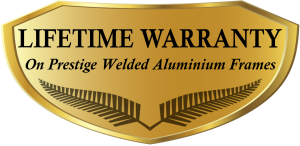 Whether your home is contemporary or traditional, there are design options to suit every style. 
Enjoy peace of mind knowing that Prestige design and create your garage door to suit your home.
FOR A NO OBLIGATION QUOTE
As the Garage Door is one of the largest features of a home, there are a few factors to take into consideration when choosing the materials and design.
Aluminium Garage Doors Maintenance & Longevity
While most things look great on the day of installation, a component of this size should be made to last. Using Powdercoated Aluminium eliminates the maintenance required by other styles. Only a wash with soapy water would suffice to clear surface grime. Whereas other materials such as Cedar need constant recoating to maintain moisture resistance.
Powdercoat finish also offers an extensive warranty, generally 10 years or more. This allows peace of mind throughout the building lifecycle.
Our Aluminium sheet metal is 2mm, providing a durable finish. whereas most alternatives in the market could be as low as 25% of this. This gives a high tolerance to rippling through time, unlike steel alternatives. 
Durability
Along with the superior material thickness, a Welded Box Frame is the base of all Prestige Aluminium Garage Doors. This holds a Lifetime Warranty given the longevity of the construction
Customisation
Finished in Powdercoat, these doors have an extensive range of Colour options to choose.
As all Aluminium doors are finished in Powdercoat, this allows for an extensive range of colours. Some options including the Dulux Powdercoat Range and Interpon Range.
There are also many other customisation options such as border, battens, windows, and insulation.